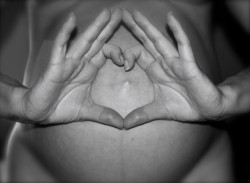 *I'm not currently running pre or postnatal yoga classes but am available for 1-1 sessions in and around Thame, Oxfordshire*
Pregnancy Yoga
During your pregnancy the connection between mother and child is naturally formed as your body's rhythms are synchronised over the nine months. It therefore makes sense that your wellbeing particularly during this time has a direct effect on the healthy development of your baby and your experience of pregnancy.
Before your baby is even born their senses are developing, they hear your heartbeat, sense your breath, hear your voice and sense your mood. Yoga teaches us most importantly how to breathe more deeply and efficiently, bringing you a deeper sense of relaxation, which is the best way to positively impact your physical and mental health throughout your pregnancy.
When I fell pregnant with my first baby in 2013, I relished the opportunity to experience the benefits of pregnancy yoga firsthand to not only nurture my body during pregnancy but also learn some wonderful tools to ease me through my labor with presence and confidence.
Benefits of pregnancy yoga
Promotes relaxation /stress-management – awareness and control of breath is an effective tool during pregnancy to help calm and reduce anxiety; as well as an effective technique to help with pain-management, focusing and relaxing during labour.
Improves general fitness [stamina & health] – the calming practices are beneficial for the nervous system and hormonal system, the more strengthening and energising practices are beneficial for the cardiovascular system, many poses as well as inversions are beneficial for the circulatory system – helping reduce blood pressure. All of these benefits to the mother can also be shared by the foetus [whatever is good for the mum is good for the baby and visa versa].
Promotes emotional wellbeing – enhances enjoyment of the journey of pregnancy as a special, sacred time to honour yourself and your baby – teaching the benefits of self-love/nurture.
Increases strength, flexibility and agility – putting you in the best possible shape for the rigours of labour, the healing postnatally and beyond!
Deep toning of the birth muscles – [transverse abdominis, muscular walls of the uterus, & the pelvic floor]. These help you to 'birth lightly' and facilitate quick postnatal recovery [eg: reduce/prevent: incontinence, prolapse; aid in recovery of stitches].
Improves circulation & can help with fluid retention [reducing swelling of ankles /legs].
Reduces/alleviate back problems and improves posture– the strength and flexibility work of the postures can help ease back, neck and hip pain – often caused by increasing stress on spine and spinal nerves by the weight of the baby and changes to your body shape.
Alleviates / prevents aches & pains of pregnancy – helping you enjoy a more comfortable pregnancy – eg: heartburn, oedema, carpal tunnel, muscle cramps, constipation, restless legs.
Helps you birth consciously and powerfully – "yoga is attention" – conscious relaxation helps you stay present, relax, revive and re-focus your energies. Breaking the 'fear-tension-pain cycle' – even when things get challenging and demanding, you will be able to use you yoga-awareness and tools to stay calm and grounded which will have a positive effect on the health of baby during the labour process.
Empowers you – the practise of yoga helps develop your mental and physical strength in preparation for the challenges ahead as a new mum – to face them with courage, strength and gratitude. It also provides you with necessary perspective and acceptance and the ability to stay calm if things don't go according to your hoped-for birth plan.
Postnatal Yoga
The morning sickness, achy lower back, and fatigue of pregnancy have passed. But for mamas, a whole other different set of physical conditions and new emotions often accompany the bliss of loving your new little creation.
Many women when pregnant attend a prenatal yoga class: to keep toned, to stay flexible, to prepare their bodies for labour and birth, and also to meet other mums in their area. But once the baby is born it can be easy to lose the connection with other new mums, and feel disheartened about the physical and emotional effects childbirth can have on your body.
Postnatal yoga uses movement, balance and relaxation to allow your body to recover from pregnancy and birth. It helps to heal the body and mind, and repair all the tissues back to their former glory. It is designed for mums with their babies and so incorporates the little ones into the practice, either using yoga asanas to keep the babies entertained, or holding the babies as part of the yoga itself.
The class is designed to nurture new mums and provide a safe environment for them to heal and repair their bodies, to talk about their experiences of birth and as a mum, and safely allow them to reconnect with their bodies.
It may be an old cliché but if you have a happy mummy, you have a happy baby.
Some Benefits of Postnatal Yoga
Complete exercise for the whole body
Movement that promotes stamina, energy and strength
Helps tone and knit back together separated abdominal muscles
Relieves stiffness in the shoulders
Strengthens pelvic floor muscles
Interaction with other mums
Expands breathing
Promotes relaxation
Improves blood flow
Detoxification and movement of fluids
Promotes hormonal balance
Stimulate cell growth and repair
Maintains flexibility in the spine and joints
You should always check with your GP and yoga teacher about when it is appropriate to start attending a pre or postnatal yoga class, it is normally best to wait until you have had your 12 week pregnancy scan and 6 week post birth check up.
Take a look at my classes page for my current timetable of yoga classes I teach.