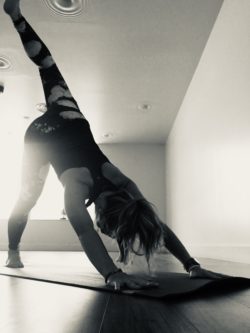 Weekly Flow Yoga – live via Zoom
Class Timetable
Wednesday 7.30-8.30pm, Online Yoga via Zoom
Saturday 8.30-9.30am, Online Yoga via Zoom
Class Prices
Booking an online class
You can book a one off class below using paypal, or become a LauraYoga Member for £20 per month for access to all live classes and access to the past class videos.
If you have booked using the PayPal form above you will then be sent a link, password and information which will enable you to join the class. Please make sure you check the email account linked to your Paypal account as that is where this information will be sent.
---
If you've been affected financially by the impact of the Corona Virus please reach out to me directly and I am happy to look to keep you practicing in these difficult times.
---
Public classes are paused for now
Flow Yoga – combining movement, self exploration and breath
– Monday, 8-9pm, Racquets Fitness Centre, North Street, Thame, OX9 3TH
– Monday 9.15-10.05am, Thursday, 9-9.50am and Saturday, 9.30-10.20am, The Oxfordshire Tempus Spa, Rycote Lane, Milton Common, Oxfordshire, OX9 2PU
– Thursday, 7.30-8.30pm and Saturday, 8-9am, Thame Leisure Centre, Oxford Road, Thame, OX9 2BB
Children's Yoga – c
reating happy, healthy, relaxed, young bodies and minds
– Wednesday 4-4.45pm (primary school age), 5-6pm (secondary school age)*, The Space Yoga Studio, 4 Upper High Street, Thame, OX9 3ES *termtime