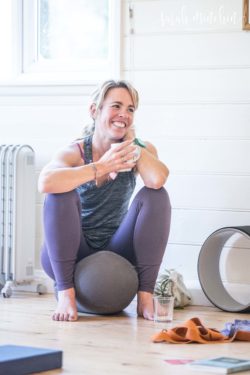 Training: 200hrs Purna Yoga – Byron Yoga Centre, Prenatal & Postnatal Yoga – Bliss Baby, Childrens Yoga – Cosmic Kids and 20hrs Mandala Yoga – The Yoga People.
I trained as a dancer from a young age and after dance college studied Psychology at university.  I first discovered yoga back in 2005 and loved it from the start. It was nice to find something after years of dance training, that allowed me to move in a really connected, calm and breath focused way. I now can't imagine my life without it.
I completed my first Yoga Teacher Training in Byron Bay, Australia in 2011, at Byron Yoga, studying yoga philosophy and ethics, meditation, breath work, anatomy and physiology, sequencing and postural alignment.  I then moved to Darwin with my partner and discovered Agoy Yoga studio and after teaching a trial class the following week, started teaching on their timetable. It turned out to be the most incredible, inspirational and hugely challenging experience any newly trained yoga teacher could want…
My style of yoga has developed into an explorative flow through the traditional and the not so traditional yoga asanas, with movement, breath, joy and curiosity at its core. Through a connection to how we move comes ease, freedom, energy and ultimately lightness of being. The body becomes stronger and more radiant from the inside out, the mind begins to settle and you experience a greater sense of wellness, fearlessness, gratitude and presence.
I have definitely learnt through yoga, that we all strive for balance and each time you practise will be different from the last, but there has never been a time that I didn't feel more wonderful at the end of a class than I did at the start! There are SO many different styles of yoga… So explore what's out there, be curious, find what works for you and go with it!
In 2011, I did my Prenatal and Postnatal Yoga Teacher Training with Bliss Baby. Yoga is a truly wonderful experience through pregnancy, with so many wonderful techniques to help you prepare physically and mentally for the birth of your baby and then to nourish, re-vitalize and energise you as a mum after.
2013, we moved back to the UK and had our first baby. I took a bit of time off to explore my new role as a mum. Yoga aims to teach us to accept and embrace change and 2013 taught me that more than ever. I was lucky enough to find the wonderful Lauren, at Laurenyoga in Wimbledon and Colliers Wood and after doing her prenatal yoga and postnatal, mums n bubs yoga classes, went on to teach alongside her.
In 2016, as a family we took the big step and moved out of London to Thame in Oxfordshire, whilst feeling sad to be leaving my lovely yoga community, I was excited about discovering and joining another.
January 2017 felt like the right time to move back to teaching after having my second baby. I completed a children's yoga training with Cosmic Kids and started teaching classes at the The Space Yoga Studio in Thame. I love seeing how children engage with yoga and am amazed often from not only my own children but also those that I teach, just how amazing yoga is for everyone.
For up to date class information of my classes in and around Thame, go to my classes page.
The journey continues…