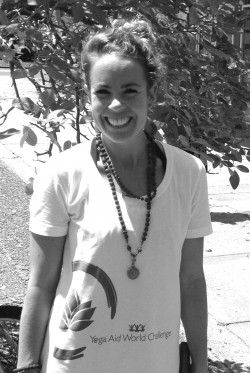 YTT 200hr, fully insured, Yoga Alliance qualified.
I originally trained as a dancer and then went on to study Psychology at University.  I discovered yoga back in 2006, and was instantly hooked, thus started my love affair with yoga. I went onto explore the many different styles, from Bikram to Iyengar! It was so nice to find something again after years of dance training, that allowed me to balance, move, re-focus and calm. I now can't imagine my life without moments spent on my mat!
I completed my Yoga Teacher Training in Byron Bay, Australia in 2011, at Byron Yoga, studying yoga philosophy and ethics, meditation, breath work, anatomy and physiology, sequencing and postural alignment.  Upon moving to Darwin and stumbling upon a fab yoga studio, Agoy Yoga and after teaching a trial class the following week, started as their new teacher. It turned out to be the most enlightening, inspirational, challenging experience any newly trained yoga teacher could want…
My style of yoga has developed into a dynamic flow through the traditional Ashtanga yoga asanas, with movement at its core. I believe movement to be the best way to explore and connect with the body, mind and soul. I have definitely learnt through yoga, that in life we all strive for a bit of balance and each time you practise will be different from the last, but there has never been a time that I didn't feel more wonderful at the end of a class than I did at the beginning! There are so many different styles of yoga and teachers.. so explore and find what works for you at this moment and go with it!
In 2011 I also went on to complete my Prenatal and Postnatal Yoga Teacher Training with Bliss Baby. Yoga is a truly wonderful experience for a soon to be mother, with so many wonderful techniques to prepare for the birth of your baby and then to nourish, re-vitalize and energise as a new mum (and the bubs can enjoy it too).
2013 bought around moving back to the UK and having our first baby. I took a bit of time off to explore my new job as a mamma and discover my new needs from yoga and life. Yoga teaches us to accept and embrace change and 2013 taught me that more than ever. I was lucky enough to find the wonderful Lauren, at Laurenyoga. After doing her prenatal yoga and postnatal, mums n bubs yoga classes, went on to work with Lauren as her cover teacher, taking me to the gorgeous Gooseberry Bush Centre in Wimbledon and in March 2015, I took over her classes at the Johmard Centre in Colliers Wood.
In 2016,  as a family we took the bold step and moved out of London to Thame in Oxfordshire, whilst feeling sad to be leaving my lovely students and classes, I was kept busy having our second baby in May and settling into country life and a mamma of two.
As January 2017 came around it felt the right time to move back in to teaching and I am excited about where yoga will take me again.
For up to date class information of my classes in and around Thame, go to my classes page.
The journey continues…