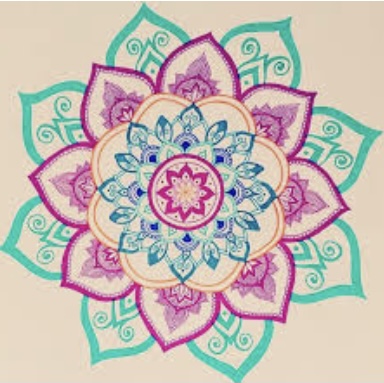 Join me for a morning exploring the joy that is Mandala Yoga in the beautiful first floor studio at Thame Cricket Club.
Mandala: a geometric figure representing the universe.
Mandala yoga is a practise that honours creative energy in all its manifestations. It integrates spiral patterns that nature uses to shape and create and opens us to deeper introspection as we move around our mat, exploring circular movements with our bodies. It works closely with the presence of the elements. We become Air when we need to be light and open, Earth when we need to be steady and stable, Water when we need to be fluid and soft and Fire when we need will power and transformation.
This style of Mandala yoga created by The Yoga People begins with meditation, reflection and yin yoga before embarking on a wonderful 360degree flowing journey around your mat (with just the right amount of challenge thrown in) and finishing with incredible relaxation.
Please get in touch if you are interested in joining me for the morning. (Spaces are limited. If the morning cannot go ahead due to Covid19 there is the option for a full refund or transfer to another date).
Not suitable for complete beginners
9am – Arrive, Settle, Tea and Chill
9.15-11am – Mandala Flow with Laura