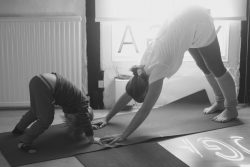 Kids Yoga, Wednesday 4-4.45pm (ages 5-7), 5-6pm (ages 8-12)*, The Space Yoga Studio, Thame (term-time).
Kids yoga summer holiday workshops – 2018 dates to be released soon
Creating happy, healthy, relaxed, young bodies and minds
Children can benefit from yoga perhaps even more than adults do! Kids yoga classes are a great way to introduce children to yoga and most importantly the wonderful life lessons that come with practising yoga.
Kids yoga classes bring fun stories to life through specially developed moves inspired by yoga. Combining fun with exercise, children go on wild adventures where they may roar like a lion, fly like a bird or blast into outer space! Children are encouraged to be vocal during a class and express their emotions physically. Through creative visualisation techniques and games, yoga helps children believe they are unique and special.
Whilst the emphasis is on fun, kids yoga has an important role in the emotional as well as physical development of children and helps them grow as happy individuals. It is so important that children learn to relax, deal with stress and anxiety, have self confidence and self esteem and can be mindful and present. Tools that children can learn in a yoga class can serve them through their lives.
I enjoy doing yoga at home with my 3.5yr old and taking that time to teach him some ways to deal with his anger (toddlers seem to have an abundance of it!!) and explore fun ways of moving his body.
I highly recommend these great children yoga stories by Mariam Gates, Goodmorning Yoga and Goodnight Yoga, which my little boy loved as his bed time story for months and when he did the 'bee', with sound effects and all both my partner and I giggled with love and wonder.
All children can and should do Yoga!
Take a look at my classes page for my current timetable of other yoga classes I teach.